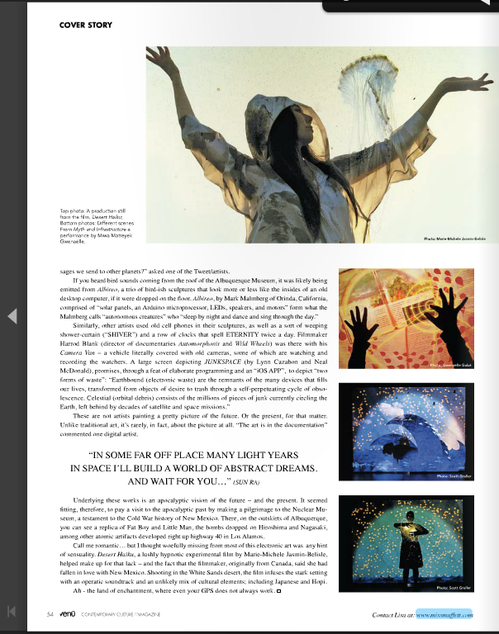 キリロラ☆が天と地球の間の存在で、大和の精神を持つ精霊の役で出演しているfilm-poem DESERT HAIKU !!
このYou tubeでは25秒の映像ですが、一瞬写っています。http://www.youtube.com/watch?v=TJh4DKOdtSk
キリロラ☆アルバム『大和の心の響』の中から『まもり』も使われています、

10日にロスで12日にバリでのフィルムフェスティバルで上映されます。

film-poem DESERT HAIKU, which has been released into the world as a limited edition of 33 specially printed DVDs, is beginning its festival run this Friday October 10th in Los Angeles, California. The film will be screening in the experimental film & music video segment of the Sunscreen West Film Festival. Link to buy tickets is below ! 

LOS ANGELES, CALIFORNIA SCREENING

Experimental/Music Videos Shorts Block <http://8h51.us2.list-manage.com/track/click?u=42f15bdce5321339e7d9920c8&id=531192180e&e=3cf729e996> 
Fri, Oct 10, 2014 10:00 a.m. - 11:00 a.m. Hermosa Beach Community Theater, 710 Pier Ave, Hermosa Beach, CA 90254

BALI, INDONESIA SCREENING

Next, the film will have its Asian premiere at the Balinale, Bali's International Film Festival. Special shout-out to my friends in Indonesia who will actually be able to attend the premiere on my behalf !! If you happen to be in this part of the world on Sunday, October 12th, the film will be screened at the very fashionable Beachwalk Mall, Kuta Beach, Bali, as Open Air Cinema. The dream !!

Open Air Cinema Block
Sun, Oct 12, 2014 18:30 - ... Beachwalk Mall, Kuta Beach, Bali
http://balinale.com/content/festivalcalendar-2014
*Desert Haiku will be screened right before the German feature film 'Slow'

Desert Haiku, Asian Premiere, film block beginning at 18h30, Sunday October 12th.